NEW: Technical Tours – Add a tour to your Velo-city registration for free!

During the Velo-city conference participants will have the possibility to discover Leipzig's cycling developments by taking part in technical visits led by experts in small groups on a bike. All tours will run every day in parallel to the conference programme.
Discover the different tours here below and book yours! (On a first come, first served basis. One person can select and attend only one technical visit.)
Book your tour:
If you are already registered to Velo-city, you will have received a booking link per e-mail to add your technical tour.
For any question, please email the Conference Office Team info@velo-city2023.com
Tour limit & duration:
Participants per tour: max. 20
Duration: approx. 90 minutes to max. 120 minutes (longer distance tour: approx. 180 min)
Please be at the meeting point 15 minutes before the tour starts!
How do I get there?
Most tours will start from the Leipzig Central Market Square in the city center. To get there from the Congress Center Leipzig (CCL) take the suburban train – S-Bahn (S2, S5 or S5X) to the city center and alight at the station "Leipzig Markt". The journey takes approximately 11 minutes.
Tour 1:
Leipzig's Former Exhibition Centre: New Mobility Solutions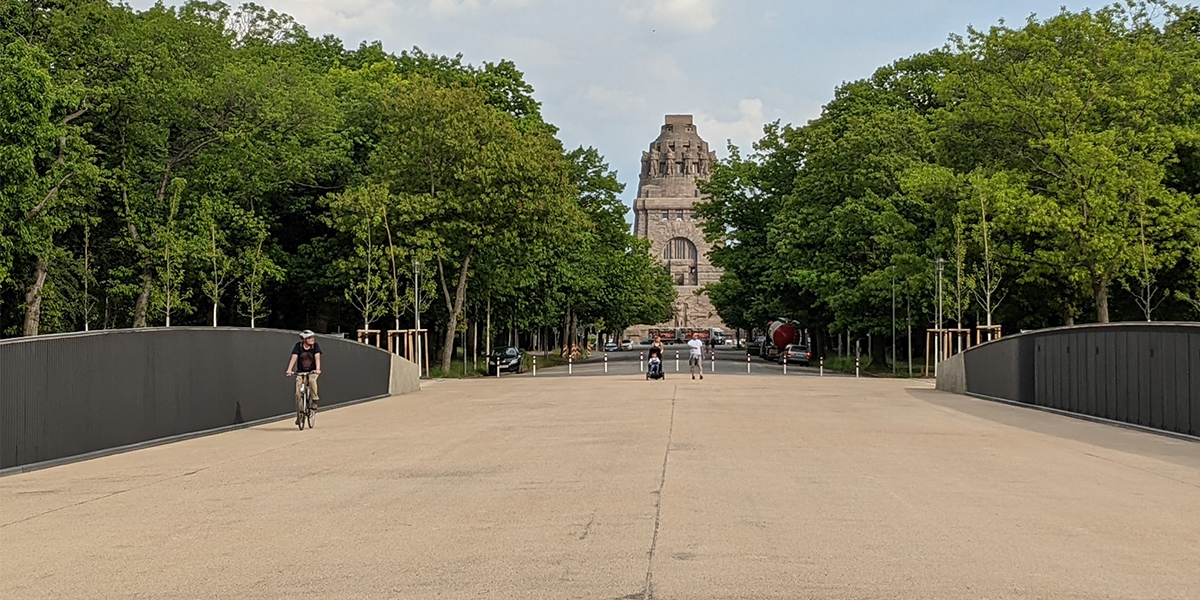 The tour will take you to a part of the city that has seen significant changes in its use since the Peaceful Revolution of 1989.
The original Leipzig exhibition site, once an exemplary international representative of the GDR economy, has now been transformed into a complex of offices and shops with an exciting mix of uses ranging from hardware stores and bicycle dealers to research facilities and a Max Planck institute. In addition to cycling on this prestigious trading route, you can experience German history and learn about urban transport planning.
Tour 2:
Raising Awareness of Cycling: Permanently Installed Cycle Counters

We will take you on a route past a selection of cycle counters. The city currently has 11 cycle counters in various significant locations relevant to the transport transition such as designated cycle paths, bicycle lanes and pavements. Data from the counters is collected centrally using both external and internal tools. It is then evaluated continuously and can be accessed online by the public. Thanks to the permanently installed cycle counters, the City of Leipzig has been able to show a proven steady rise in the daily use of bicycles in recent years.
Tour 3:
Blue & Green Infrastructure – Leipzig, the Water City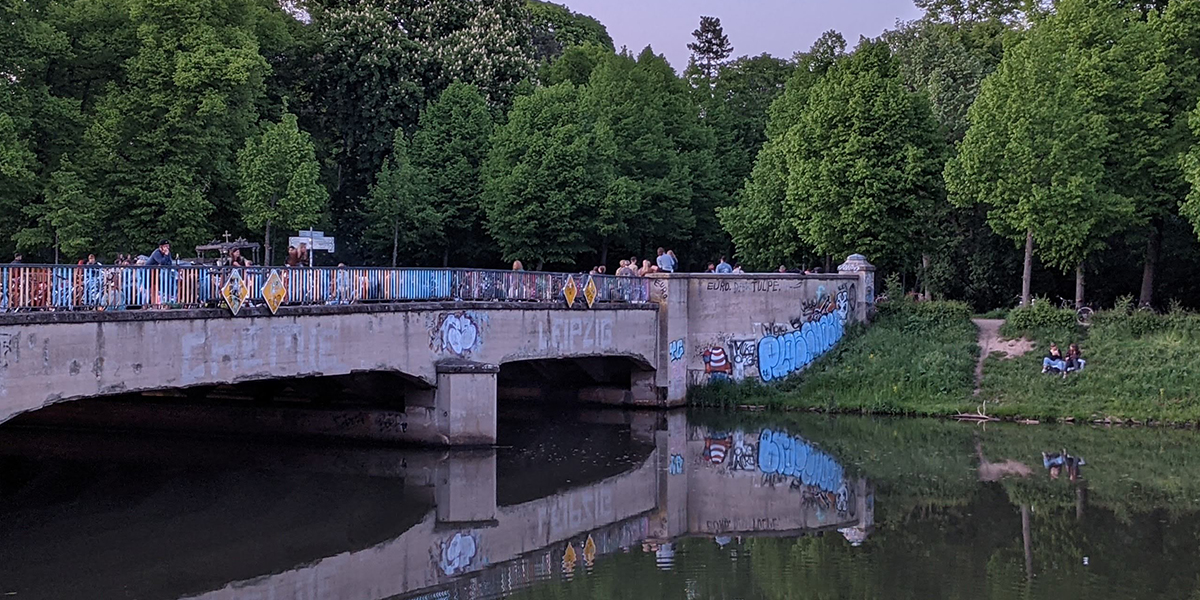 Cycling along our waterways is a particularly attractive option for families and visitors. Leipzig is a city of water featuring large areas of alluvial forest and more than 70 square miles of water as the three Elster, Pleisse and Parthe rivers meet the Karl-Heine Canal and our mill streams. On this excursion, we will explore Leipzig's interlocking network of natural rivers and man-made canals by bike. You can experience the charming inner-city atmosphere from the green banks of the blue waters!
Tour 3:
Blue & Green Infrastructure – Leipzig, the Water City (longer distance tour)

Cycling along our waterways is a particularly attractive option. Join us to follow in the footsteps of the industrial pioneer Karl Heine to Lindenau Harbour and the Saale-Leipzig Canal. You can enjoy riding along a unique network of cycle paths that pass through vibrant waterfront districts both old and new. A tour that brings together Leipzig's history and its future.
Tour 4:
Easily Accessible Power For E-Bikes En Route: Public Charging Points in the Western Part of Leipzig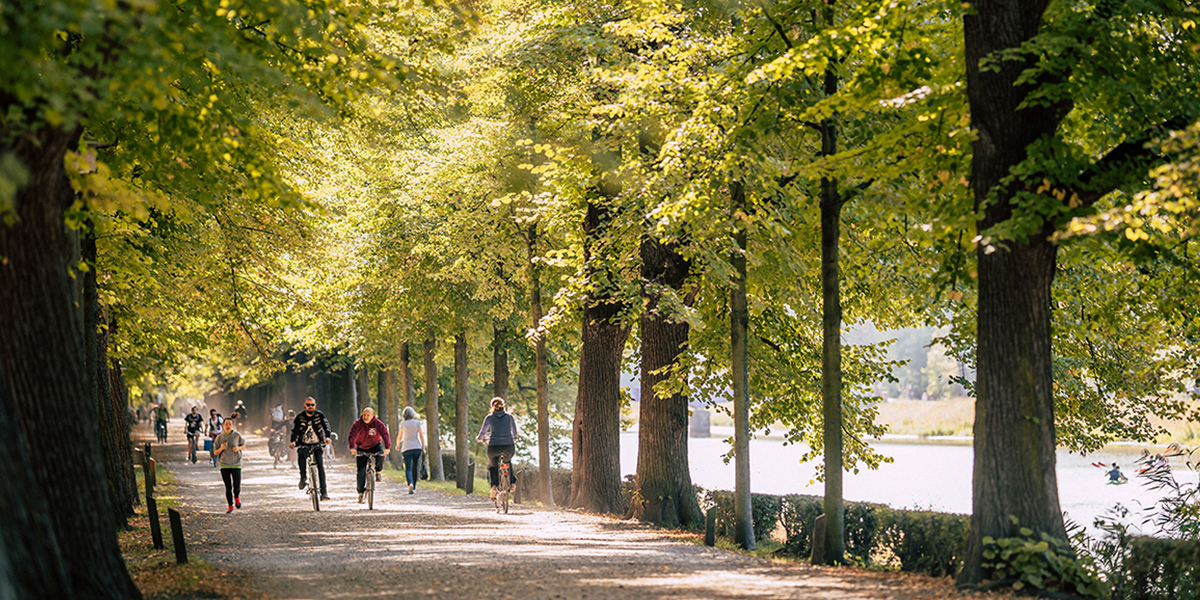 During the tour, cyclists will be given insights on topics such as municipal funding, support strategies and the availability of grants. Detailed information on the usage of charging points including technical and operational aspects as well as advice on bicycle routes and tourist attractions will be available for participants at the various charging stations visited.
Tour 5:
"Parkbogen Ost". Leipzig's New Equitable Green Public Project

This guided tour will lead you through the planned green recreational area "Parkbogen Ost" in the eastern neighbourhoods of Leipzig. The name has been given to a project envisioning an area with footpaths, cycle paths and recreational areas stretching for 5 miles and forming a semi-circle around the east of Leipzig. At the heart of this green belt is the disused tram bridge that connects several eastern districts of Leipzig. The tour will give you an overall impression of urban regeneration in Leipzig during the last 30 years.
Tour 6:
Rethinking streetscapes for healthy and safe bike mobility: SUPERBLOCKS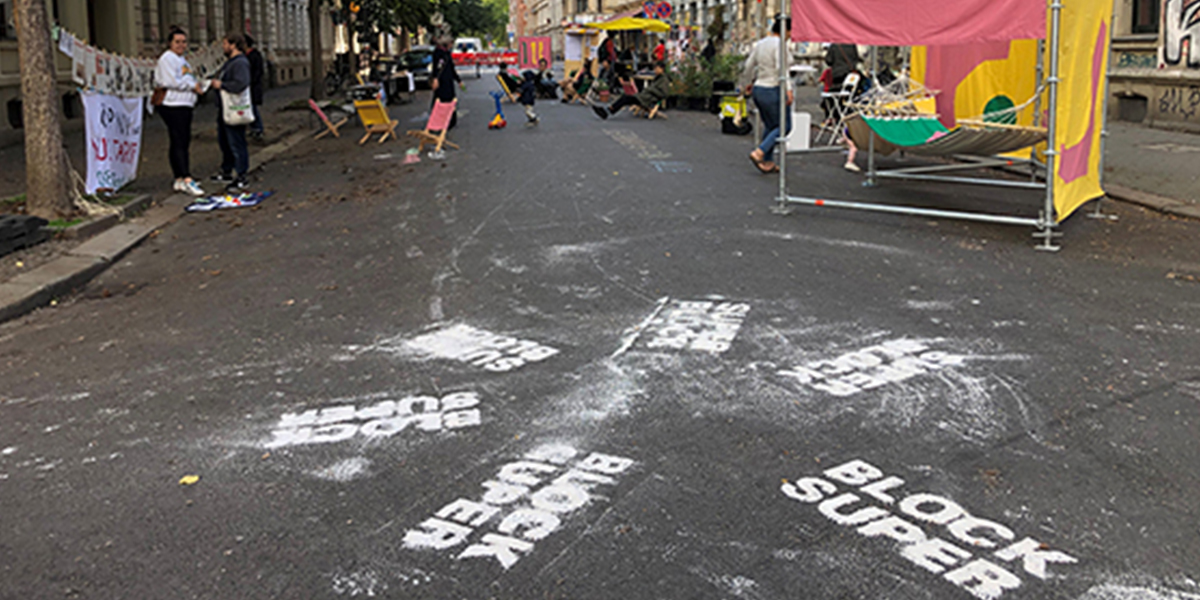 During this tour we will explore bike mobility pathways in Leipzig's Inner East. The route will head to Lene-Voigt-Park a former rail infrastructure and intensely used pathway for pedestrians and cyclists and then meet the inter- and transdisciplinary team of the project "Neue Nähen – Leipziger SUPERBLOCKS" in the area around Eisenbahnstrasse. They will give us insights into their activities to transfer and adapt the Barcelona Superblock model in order to re-shape streetscapes on a human scale.
Tour 7:
Cycling Communities and Bicycle Manufacturing in Leipzig's East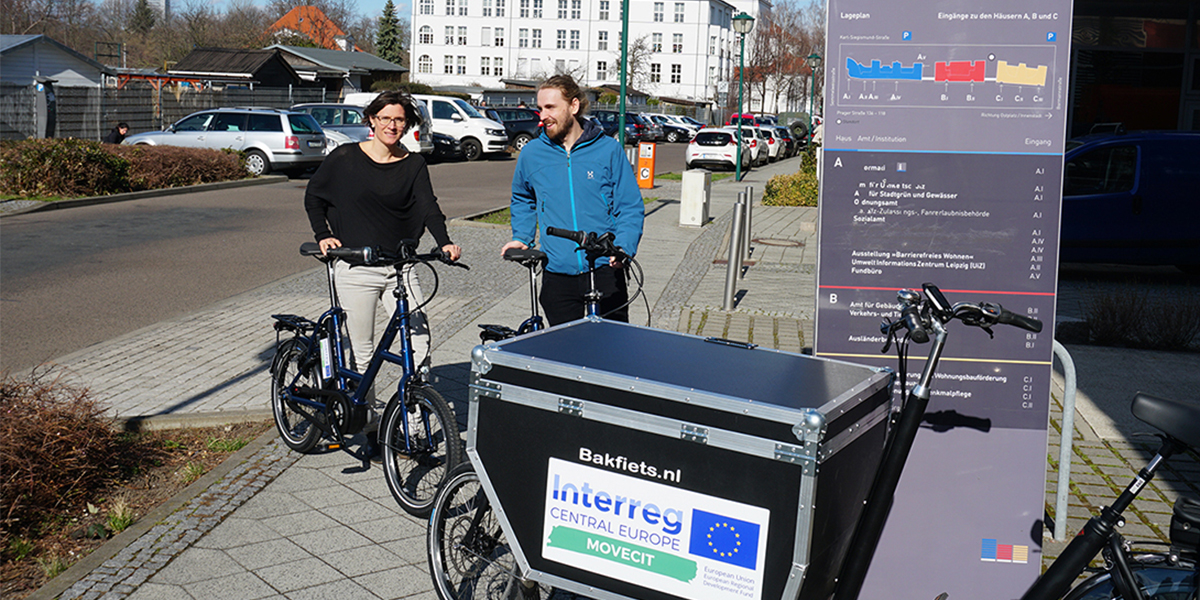 The German "Free Cargo Bike" movement with more than 140 non-commercial, community-based and free-of-charge cargo bike-sharing initiatives is unique worldwide. The local cargo bike collective KOLARA even builds some of their bikes themselves and will give us some insights. "LeichtLast" is a Leipzig-based manufacturer that builds ultra-light cargo bikes made out of carbon in a small workshop. The company is a typical 1st generation representative of a highly innovative market. Today, many big players in the bicycle industry are entering the cargo bike market. We'll discuss both.
Tour 8:
Growing cargo bike sector and the cities support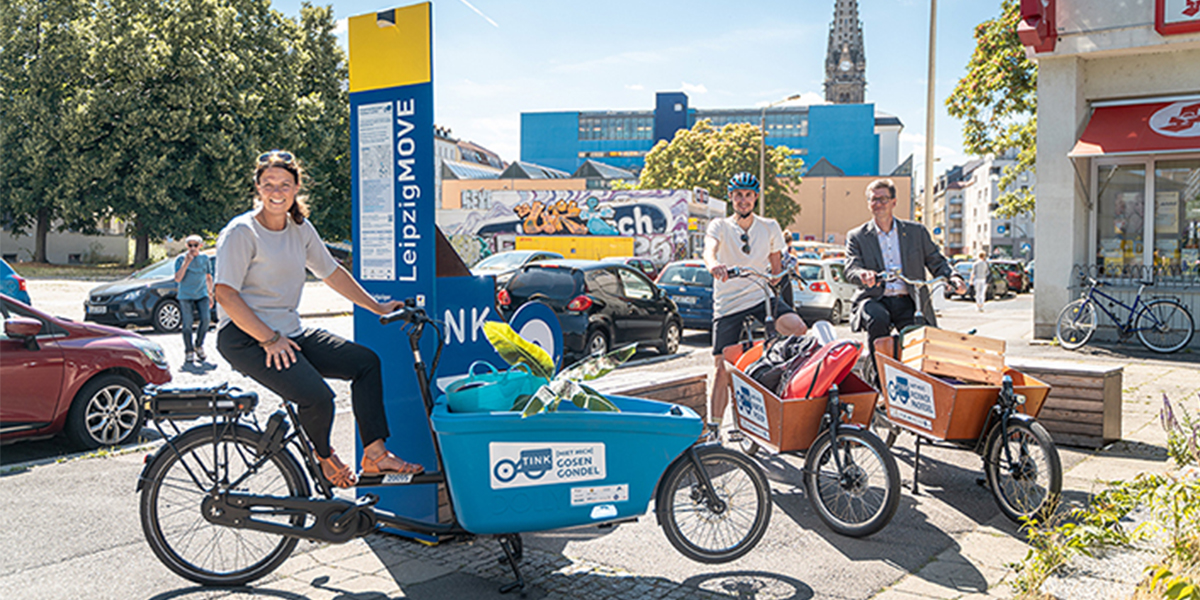 Local politics have various options to support cargo bike usage such as buyer's premiums or test-schemes for citizens as well as local companies and craftsmen. We'll compare measures which have been implemented in Leipzig to best practice examples of other German municipalities. The variety of cargo bike types and concepts is enormous. We talk about pros and cons, the necessity of professional maintenance and we test-drive as many bikes as possible!
Tour 9:
Cargo Bike Sharing & Cycling Logistics in Leipzig

The City of Leipzig has just completed a field test for a public cargo bike sharing scheme (TINK). We will be visiting one of its rental stations and later comparing it to the "Free Cargo Bike" sharing scheme called "LARA" which is run by local volunteers at ADFC Leipzig. FULMO is a cycling courier and logistics collective which uses cargo bikes and trailers. You will be inspired!
Tour 10:
Multimodality Out of the Box – Bicycle Parking Facilities in Leipzig

To convince commuters to change from cars to bike & rail, urban planners not only need to offer good infrastructure for cyclists in cities but also safe and secure bike parking facilities. The "Infostelle Fahrradparken am Bahnhof" will show cyclists on the tour what the city of Leipzig is planning and how the German Federal Ministry for Digital and Transport supports cities in Germany in their planning and building of bike parking garages.
Tour 11:
Next Level Bicycle Parking – a Trip by Train to Halle Central Station

The main station in Halle has a bicycle tower as a safe place to park bicycles which was awarded the Federal Ecodesign Prize in 2022. Thanks to the unique design of the facade, the modular towers fit perfectly into the urban environment and complement the appearance of the station. This station is one of 16 train stations where the Deutsche Bahn regularly tests new and sustainable services with the aim of increasing the satisfaction of rail passengers and visitors.
Tour 12:
'Work in Progress' – Public Spaces in Leipzig

How bike friendly is the city of Leipzig? We'll see examples of well-designed shared spaces for bikes and pedestrians and potential extensions of those zones. We will also take a look at the overlap of tram railways and bike lanes and at roads demonstrating the typical car-centred planning of the late 20th century. Where can we improve the quality of public spaces by downsizing streets and car lanes? Which measures can we implement to quickly improve the situation for pedestrians and cyclists? A tour aiming to combine urban planning and transport planning.